Post by flickford on Sept 18, 2016 20:37:28 GMT -5
Here's the progress of my fish room. It's a work in progress but I thought I'd share briefly what I've done and learned.
I may not get back to all queries in this forum as I'm usually under painting deadlines for my galleries.
Essentially this is what I set out to experience first hand: low maintenance planted tanks with a self-sustaining balance between flora and fauna - no CO2, no dosing, no major filtration - utilizing: soil for submersed plants, hanging riparian planters for emersed plants with high tech lighting and UV sterilization. I call it the Hi-Lo Hybrid System. The concept is a blend of Devin Biggs' Riparium Supply's riparium plant principals, Walstad's excellent research particularly in the areas of of plants as filters and Carl Strohmeyer's AAP practical tested experiences and results and recommendations with the products that AAP sells.
I am currently keeping native species that primarily prefer densely vegetated sluggish areas of streams and rivers, and the heavily vegetated marginal areas of ponds and lakes: Orangespotted Sunfish
Lepomis humilis
and Ocmulgee Shiners
Cyprinella callisema
in the 55G, Bluespotted Sunfish
Enneacanthus gloriosus
in the 25G, Blackbanded Sunfish
Enneacanthus chaetodon
in the 17G, and Hets (the world's tiniest livebearers) H
eterandria Formosa
in the 7G nano.
Soon I will be keeping the Missouri strain of Longear Sunfish
Lepomis megalotis
(the most colorful strain) in a 90G tank. These fish prefer open water and lots of current. The only vegetation is marginal along riverbanks and islands and higher spots of the riverbed in their habitat.
When all the fish get a bit older and more colorful I'll get Mo Devlin to come up and shoot some fish portraits and I'll get them on the forum.
On top of the tanks growing in hanging planters are emersed plants - this is the 55G.
Here's the nano featuring emersed and submersed swords.
I propagate cuttings from the plants as they get too big for the planters - the cuttings are sitting on my 90G tank stand. I'm getting 16 ready for the 90G.
I'm going to have to start giving them away at some point though, who wants to try a riparium?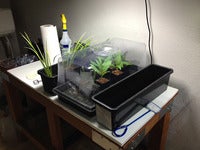 I have Brazilian Pennywort that is growing out of one tank and I've draped it across the planters, maybe it will take hold.
The submersed plants are all doing well in all the tanks - had quite a battle with brown dust algae, then beard algae and finally green algae - but Nerite and Mystery snails helped get it in check.
Now the plants have pretty much taken over the tanks.
For lighting I use Tropic Marine Center GroBeam 1500 Ultima 30 Watt Tiles and AquaGro 600 Ultima 12 watt GroBeam single light strips for the tanks supplemented with 4 ft. Jump Start T5 Modular Strips & Reflectors. I'm easily getting 2-3 Watts per gallon.
I use Sunsun HJ 952 and 752 Internal Power Filters with sponge filter media hooked up to 5 Watt & 7 Watt Terminator UV units.
These internal power filters would be considered underpowered if I was using the nitrogen cycle to filter the water for the size of the tanks and volume of water they service - but I don't use them that way - I use them strictly for mechanical filtration.
What I'm looking for is a high dwell time in the UV units to achieve level 1 sterilization of harmful bacteria rather than just clarification of suspended algae.
I don't allow the sponges to get colonized with nitrifying bacteria, I rinse them weekly in hot chlorinated tap water.
Instead I let the riparium plants roots utilize the fish waste, and any excess nutrients, and I never have any spikes of ammonia, nitrite, nitrate or phosphates.
I use iron rich soil in substrate planters for the submersed plants covered in Seachem Fluorite gravels - though pennywort and anarchis and others don't need soil so I just jam them into the gravel substrate and they do just fine.
I do not dose the plants ever, I let them utilize fish waste and uneaten food, and there's still enough left over nutrients to have to keep an eye on algae blooms now and then.
I also do not keep the substrate overly clean, I let some mum and excess food build up and disappear into the substrate for plant roots that get out of the submersed soil planters like hygro, swords, sag and val - the plantlet's nutrients are well provided for.
When the lights go off at night all my tanks except the nano get a fine stream of aeration bubbles until an hour before the lights go back on in the morning - heavily planted tanks can go anorexic at night and cause the fish to have to respire at the water surface.
I also use Wonder Shells to maintain a high GH.
So all of the measures I take above provide my aquatic charges with water with a Healthy Redox Balance (slow and steady and stable) via - as Carl recommends - proper dissolved oxygen levels, proper positively charged Calcium and Magnesium levels and level 1 UV Sterilization.
The one area I keep a sharp eye on is decaying vegetation and vegetation that has gone static - stopped growing - pruning helps keep the plants going and the water clean.
So far so good!