Post by Ameenah on Aug 26, 2014 12:36:05 GMT -5
Challenge:
1- create a larger swim area
2- provide for increased "hiding spots/caves"
3- create a secure location for SunSun 1542 water pump, which powers my
lFluidized Sand Bed Filter
(FBS Filter) to be surrounded by
Matrix
and Volcanic Rock serving as pre-filter to decrease mulm getting into the FBS Filter.
Ameenah's DIY Solution:
Complete re-do of the aquascape, make a shelving unit, use of mesh bags for Matrix and Volcanic Rock
The DIY Shelving Unit Materials Needed
1- obtain hard plastic grid
Available in lighting dept of major home and garden stores as 2x4 ft sheets most often used as decorative covering for kitchen fluorescent lighting
2- obtain a 10 foot 1/2 inch pvc pipe and variety of pipe connections and end caps
3- pipe cutting tool (works great on aquarium tubing too,) tape measure,
Aquarium Silicone Sealant
, wire cutting tool
The Process:
1- Measure the hight, width and depth you desire for the shelving unit
2-cut plastic grid with wire cutting tool and plastic pipe to desired sizes (measure twice and cut once) the pipe cutting tool always cuts a straight clean edge on pvc pipe and aquarium tubing. Also cut the plastic grid to accomodate the pvc pipes
3- assemble the shelving unit (I held mine together with air tubing just enough to keep it together for silicone the "rough edges" of the plastic grid material and to hold in the grid to the pvc pipes. Flip over the shelving unit and silicone these same areas again.
4- after 3 days of aquarium silicone sealant curing, the shelving is ready for placement in the fish tank. At this point I added additional pvc pipe supports down the middle of the shelving - this step now doubles the "hiding spots/caves"
5- add plastic decor (or coral in Reef Tanks, or live plants for those with green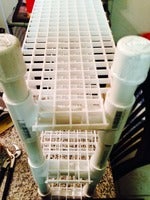 6- in my circumstance, I placed a mesh bag of Matrix and Volcanic Rock on the top shelf, placed my SunSun 1542 water pump on this and then covered the water pump with yet another mesh bag of Matrix and Volcanic Rock. Since I was also adding my small exotic oscars to the Big Tank at this time, I did a 3/4 water change and removed my tank decor to create a larger swim area and to confuse my larger fishes about their home - no one had their previous "hiding spot/cave" any longer. I was able to add my exotic oscars before refilling the tank with tap water with both
lSeaChem PRIME and Stability



Please take a look at the 8-26-14 Big Tank update by clicking here
8-26-14 Big Tank update
. For more details on my Big Tank, please visit my Tank Blog at:
Ameenah's Big Tank Blog at Everything Aquatic Forum